After dominating the territory at the bottom of the Ría de Vigo for over ten centuries, the Soutomaior Castle starts a new stage as the benchmark for heritage, culture and tourism in the province of Pontevedra. This massive fortress now houses a new and ambitious museum, which displays in an entertaining and educational way, using audio-visual devices and the latest technology, information on the history of the castle, the life of the personalities linked to the castle or the importance of this building in Galicia, and its beautiful landscape.
The museum project covers ten areas: the evolution of the fortress and its surrounding area from its origins up to nowadays; the importance of its location to dominate the territory; the destruction of the castle during the Irmandiño Revolts; the story of Pedro Madruga, a legendary figure in the history of the castle; the fortress as a symbol of power; the theory on the Galician origin of Christopher Columbus; the Soutomaior family; the transformation of the castle into a palace; the exciting life of the writer and advocate for the rights of women María Vinyals; and the refurbishments undertaken in the castle over the centuries.
Exhibition rooms are fully equipped with the latest technology, using seven audio-visual devices, re-enactments in 3D, video mapping and several magic boxes
The tour of the castle starts after crossing the lifting bridge and lasts about 45 minutes. It boasts the latest technology, using seven audio-visual devices, projection mapping, several magic boxes and projecting re-enactments in 3D. In addition, it includes didactic activities, specially intended for children, aimed to test visitor's skills and knowledge.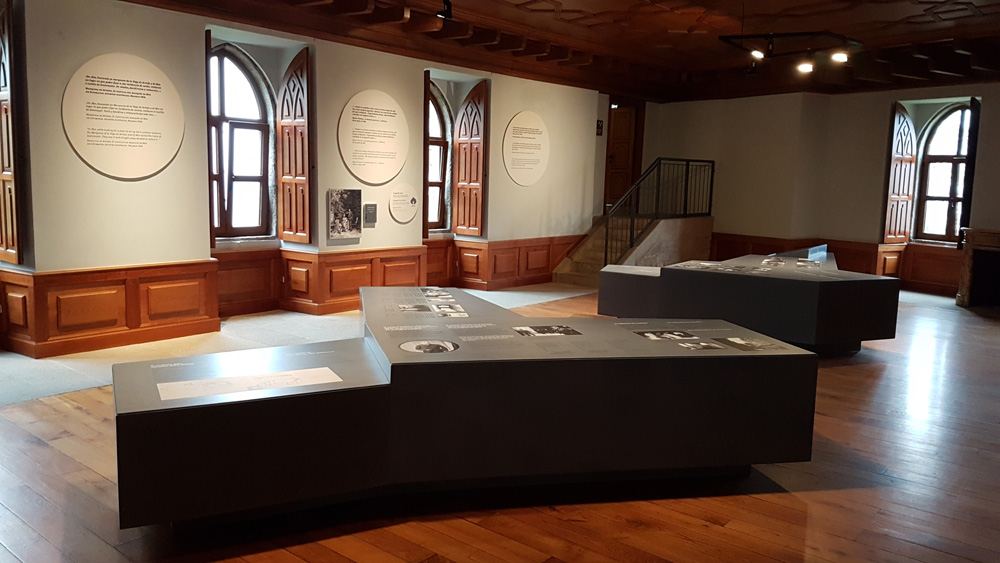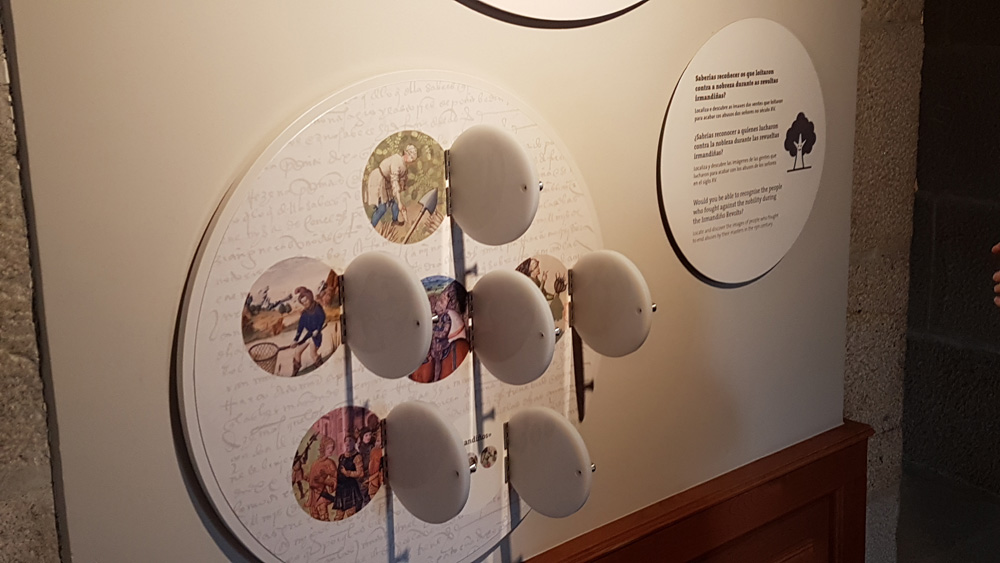 The magic boxes are among the main attractions of this entertaining and amusing tour. They consist of a series of lights and mirrors which will bring the visitors closer to the way of life of some of the characters which have been closely linked to the castle
The "video mapping", one of the most surprising devices of the exhibition, can be visited in the Tower of Homage. There, you can immerse yourself in the life of Pedro Álvarez de Sotomayor, popularly known as Pedro Madruga, a legendary noble closely linked to the castle. According to some theories, he may be the true Christopher Columbus. One of the rooms displays evidence on the links of this popular navigator with the family of Sotomayor.
Audio-visuals, high resolution historic images, facsimile reproductions of historical documents, a display of the chronological milestones, a zenith lighting projection of different elements of the natural and cultural landscape and of three different historic events in the castle onto a model… Visitors will have the opportunity to experience a sensory journey; they will travel one-thousand years back in time, over the different periods of the castle.