Soutomaior Castle is a unique destination, not only because of its great historical value, but also for its scenic and natural surroundings. The property's location is excellent, midway between the Suido mountain range and the Ría de Vigo. Its closeness to the sea, mountains and rivers favours the fertility of these lands. For this reason, the lands around the castle have been destined to a variety of uses over the centuries, according to the owners' needs and preferences in different periods. The lands have been used as a copse, for forest use, for growing crops and as a garden.
María Vinyals, on her book El Castillo del Marqués de Mos en Sotomayor (The castle of the Marquis of Mos in Sotomayor), published in 1904, mentions this astounding botanical diversity:
"The park surrounding the fortress is magnificent; everything grows there: the Lebanese cedar grows next to the eucalyptus; the Norway spruce, next to the palm tree and the orange tree. Camellia plants are trees instead of shrubs, and the magnolia trees reach the same height as conifers. The ground is carpeted with grass, like an English landscape, and roses have the freshness of southern climates."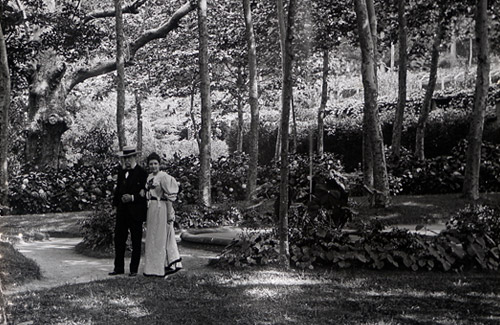 Plaza de los Castaños (Chesnut 'square'), circa 1890-1907. Museo Sorolla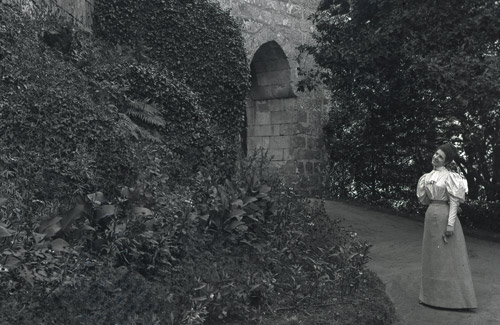 María in the Soutomaior Castle gardens, circa 1890-1907. Museo Sorolla
Pontevedra Provincial Council acquired the castle in 1982, and carried out an important restoration work. The institution is very involved with its conservation and in the dissemination of the unique values of this ensemble. New proposals join the efforts to care for every specimen to keep on improving. As a result, in 2012, it became the first garden in Spain to be recognised as a Garden of International Excellence by the International Camellia Society. Moreover, in 2021 it got included in the European Route of Historic Gardens.
In order to put its charm on the spotlight, Pontevedra Provincial Council suggests three routes , each of them with a distinct characteristic scenery. Without a doubt, one of the main attractions is the camellia garden route, with hundreds of camellias of different varieties, together with trees of old age and great magnitude, three of them considered Singular . Wine tourism is also present; the richness of our old vines is obvious all throughout the vineyard route. These vines produce high quality grapes to make the finest wines. The third route passes through the forest, which has become an oasis with food and shelter for our local fauna as a result of the reforestation carried out by the Provincial Council.
Moreover, there is an important germplasm bank , an orchard of native fruit trees that acts as a reserve of varieties that might disappear forever otherwise.