The park and its gardens date back to the 19th century, thanks to the initiative of the owner, the Marquis of la Vega de Armijo, who decided to turn the castle into a residential or summer house.
After its acquisition and large restoration by the Provincial Council of Pontevedra, the garden was opened to the public.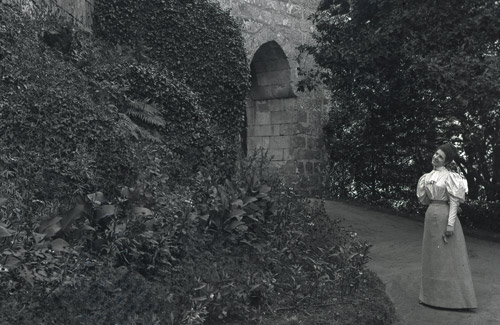 María in the Soutomaior Castle gardens, circa 1890-1907. Museo Sorolla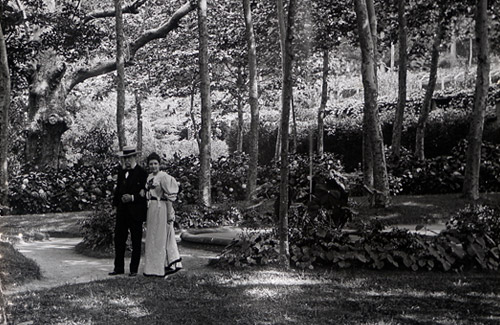 Plaza de los Castaños (Chesnut 'square'), circa 1890-1907. Museo Sorolla
The provincial institution is highly involved in the development and growing of camellias and they decided to create their own collection, which was formed throughout three stages:
In the first stage, when the castle came into the hands of the Provincial Council, the garden already had a total of 19 specimens of Camellia japonica, some of which are among the oldest in Galicia.
In the second stage, four years later, new specimens acquired in Galician and foreign nurseries (France, England, California and New Zealand) were incorporated, as well as other specimens arriving from private donations.
In the last stage, specimens of special interest due to their singularity were added; they were a small number of camellias, but they were added on a yearly basis.
The works carried out throughout these three periods have resulted into a collection of more than 500 camellias.
In February 2012, the gardens of this architectural site became the first gardens in Spain and seventh in Europe to be recognized as an International Garden of Excellence by the International Camellia Society.